In the whirlwind that was moving house and redecorating my crafty projects were put to the side for a significant amount of time! Now that we're moved and settled (bar a few finishing touches) I've been able to indulge my brand new craft space. I've never had a whole area I can call my own to work in before, it's always been a corner of the living room, which isn't ideal if there is anybody else around. The first this I decided to do was get back  into a bit of dressmaking. 
This was partly a necessity as I've a wedding coming up and was so disappointed with what was on offer in the shops…too short, too many frills, no sleeves, wrong colours, cost a small fortune, the list goes on. All I wanted for the wedding was a simple dress in a vibrant summery colour, it had to be a decent length (I want to feel like I can sit down without flashing the world), it also had to have sleeves (I didn't want to have to bring an extra cover up, or worse…show my arms!). 
So my only option was to raid my vintage pattern selection and my fabric stash. I picked a turquoise blue lawn and this pattern;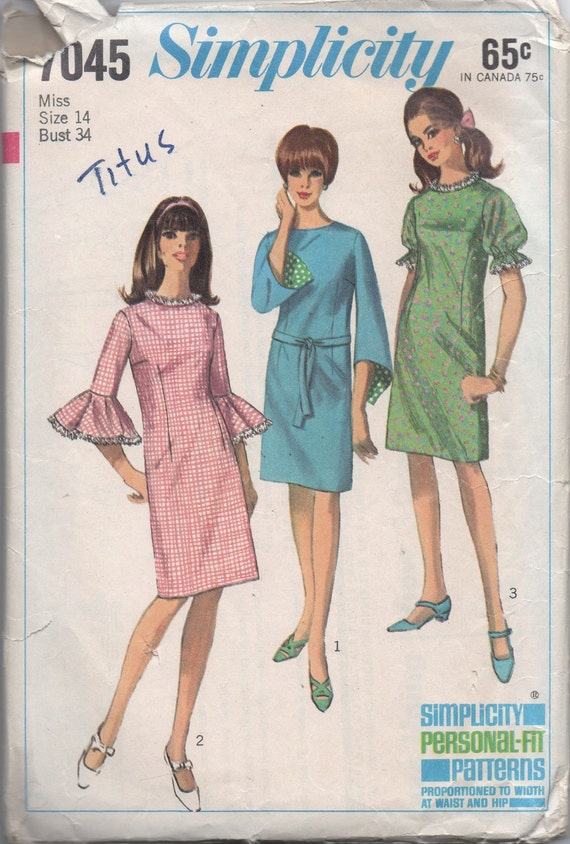 I loved the sleeves in option 1 so decided on that with a remnant of psychedelic fabric I picked up years ago! Buying the pattern, fabrics and notions so long ago was beginning to make this dress feel like a freebie! 
I can be quite impatient when I'm dressmaking, cutting a bit too roughly, not pinning and tacking properly but this time I decided to do everything by the book and I'm so happy I did….I love the finished product, what do you think?
I am considering adding a contrasting collar, in the same fabric as the lining of the sleeves…all time dependent though!